.
We have camera flashes going off in restaurants. Food blogs are full of lush, color-saturated close-ups of food at its most delicious: the drizzle of olive oil glistens atop a gorgeous plate of ripe tomatoes; the charred flecks of the bruléed sugar crust has us practically listening for the crackle as spoon meets custard.
Illustrated food blogs can feel like a relief after the sensory overload of too much food porn.
.
They Draw and Cook (illustrations above) takes you on a world tour of illustration. Each day's post has been submitted by an artist somewhere on the planet, resulting in a smörgåsbord of cuisines and visual styles. This past week alone we saw an exuberant cossack dancing through a Russian artist's blini recipe, a cartoonish bacon and egg toastie from England, and a spicy chocolate drink rendered like a desert toned fairy tale from an Israeli illustrator. Young artists are represented on the spin-off Kids Draw and Cook.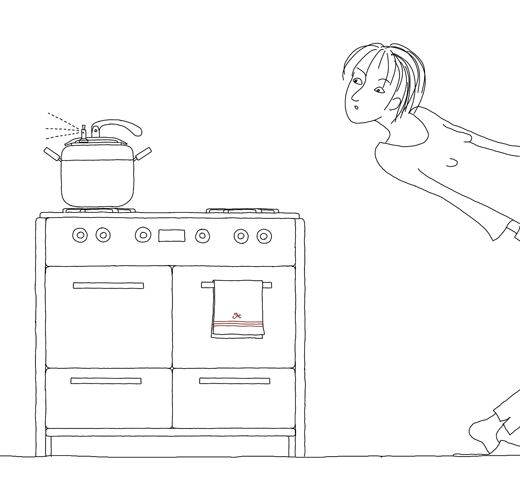 .
.
Kokblog (illustration at left) brings us the life and recipes of a Swedish designer with a taste for stylishly rustic cooking. It's all rendered in simple, mostly black-and-white line drawings.
.
Plenty of food bloggers document everything they eat with photographs. Riki Takaoka does it with paintings— meals, snacks, sometimes even the contents of his refrigerator. A more time consuming proposition than photography, he has gotten used to eating his hot food when it's cold (see Riki's illustrations, below).
If you like what you see, here are a few more illustrated food blogs worth checking out:
Recipe Look
asks readers to take a pencil in one hand and a pan in the other. Like
They Draw and Cook
, illustrated recipes are solicited from around the world. Unlike
TDAC
, which publishes the work of professional artists with an interest in cooking,
Recipe Look
welcomes entries from avid cooks who like to draw. The results are predictably uneven, but no less interesting because of it.
Norwegian Food Illustrated
is actually the work of an Italian designer living in Oslo. It's all very charmingly rendered, and sometimes she slips in a recipe for pasta.
Wine Ink
is a true curiosity. More of an art blog with some wine writing, the sketches are actually created with red wine on paper, signed and dated with the bottle's vintage. It doesn't really fit on the list, but who could resist?
.