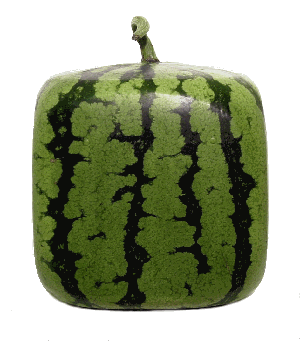 Our first glimpse of a square watermelon was in a cartoon. In Thirty Minutes Over Tokyo, our favorite television family was vacationing in Japan when Homer Simpson squandered so much of their vacation money on Japanese novelties, including a square watermelon, they were nearly stranded there forever.
It took a few more years for Japan's farmers to catch up with Homer's prescience.
Leave it to the Japanese to come up with this one. From bonsai trees, to compact cars, to miniaturized electronics, they have demonstrated their mastery of making things work in small spaces, and population-dense Japan is full of them. Homes are compact, the kitchens within them are tiny, and the refrigerators are positively Lilliputian.
Watermelons are big, roundish space hogs that have never fit well in Japanese refrigerators. This has been a particular concern in Japan, where melons hold a special place in society. The rarest and most exotic are sold as high-end gifts in luxury fruit shops. The nation tracks the springtime fruit harvest like baseball stats, when first-of-the season melons sell for astronomical sums—this year, a pair of Yubari cantaloupe fetched the top price of one million yen (about $12,400).
Square watermelons were created to accommodate Japanese refrigerators. While still growing on the vine, a farmer puts each immature melon into a square, tempered glass box that exactly matches refrigerator dimensions. The full-grown watermelon, once it's removed from the box, fits precisely on refrigerator shelves.
Growers in California and Panama plan to introduce square watermelons into the American market. Even with our big, American-style refrigerators, we can appreciate the space savings—square melons take up less room, and therefore less energy, to cool, transport and display in stores. Less space means a smaller carbon footprint.
If you want round, you can always pull out the melon-baller.
Not just square: one Japanese grower has been fooling around with other shapes. See the watermelon heart, the pyramid, and more at Crown Melon.
Instructables has step-by-step instructions that show you how to grow your own square watermelon.