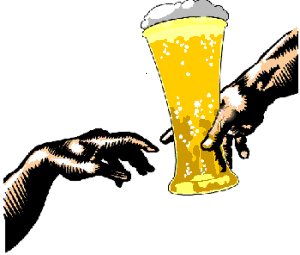 Believe it or not, there are some things that you can't buy online.
The Trappist monks of Belgium's Saint Sixtus monastery have been quietly brewing beer at their secluded abbey near the French border since 1839. A few times each month, a small group heads to the abbey's brewery following morning prayers. There they follow a centuries-old recipe that has been handed down through the order. From 72 days of labor, each year the abbey produces 60,000 cases of beer; just enough to support the monastery and its philanthropic causes.
The peaceful seclusion of the monks' labors, unchanged for generations, was shattered in 2005. That's when articles began to appear in the international press about two beer rating websites, RateBeer.com and the Beer Advocate, which had both named the Trappist Westvleteren 12 the world's best beer.
As clergy members who have taken vows of poverty, the Saint Sixtus monks are not motivated by profit, and the Westvleteren Brewery is not governed by traditional business principles of supply and demand. They have resisted the clamor of the world's beer lovers, and maintain production at the same level since 1946, when, during World War II, they discontinued their wholesale trade. Since then, they have sold only to individual buyers in person at the front gate of the brewery and its abbey-run cafe and visitors' center.
The beer goes on sale 36 times in a year when each batch completes its bottle-aging and wooden crates are packed with 24 unlabeled beer bottles. The monastery's beer phone line is manned for just a few hours each week when a few lucky speed-dialers get to place their orders. Customers are assigned a pickup time when they can receive their allotment of no more than two crates in a month (phone numbers and license plates will be checked), and they agree not to resell the beer.
Between the hype and the scarcity, Westvleteren brews are considered the holy grail of beers. An active gray market has developed with bottles smuggled into the United States and offered online at wildly inflated prices (although surely there is a special place in hell for beer drinkers who violate a monk's trust). Fortunately, there are six other Trappist monasteries producing similar styles of beer that are more widely available. The Belgian Beer Locater maintains a comprehensive database of Belgian beers with links to wholesalers and retailers that ship to the United States.
The current schedule can be found at The Beer Shop, Abbey of Saint Sixtus.
The monastery's beer phone line: (+32) 0 70/21 00 45.