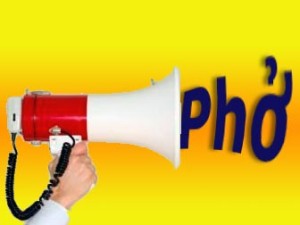 [photo courtesy of www.lovingpho.com]
Pho is so much more than beef noodle soup.
It's Viet Nam's national dish and national obsession. It's slurped and savored from north to south for breakfast, lunch, or dinner. If a child can hold chopsticks and a soup spoon, they are old enough for their own nho (child-sized) bowl.
Pho broth should be utterly beefy, made from long-simmered oxtail and beef shank flavored with just-roasted ginger, onion, cinnamon, star anise, cloves, and peppercorns. The rice noodles should be freshly-pulled, velvety but with some chewy resistance. The soup can be enriched with additions of rare beef, flank steak, fatty brisket, meatballs, tripe, and tendons. It's served with a side plate of garnishes of Thai basil, lime, bean sprouts, sliced jalapeno peppers, and sawtooth coriander. A splash of Sriracha chili sauce, hoisin sauce, or fish sauce might be added, and a small dish of hoisin and Sriracha is mixed as a dip for the meats. Vinegar-soaked onions, beef fat, and scallions can be requested.
Foe, Fah, Fer? No, no, no!
A peek at pho discussion boards and forums show the playful liberties taken with common mispronunciations. With no disrespect intended, reviews are full of puns like "pho real" "pho sure," "what the pho," "unpho-gettable," and "noodle pho pas" that have been contributed by tin-eared pho lovers.
For more puns, LA Weekly collected their favorites in  Just Pho Fun: Top Ten Phở Restaurant Names.
The Pho Finder is a searchable directory of more than 2,500 pho restaurants in the US, Canada, and Australia.
Wikipedia has a complete discussion of the tonal make-up of the Vietnamese language.
LovingPho.com has a list of essential pho recipes to try at home that includes chicken and vegetarian versions.