Pink is for girls, y'know.
That's why the beer industry is using it to sell beer to women. After years of disenfranching and objectifying women, it's time for a little condescension.
Ladies, cue the squeals of delight and air kisses because this one's for you.
Molson Coors Animée: the bloat-resistant beer
M
olson Coors is pre-tty pleased with themselves for this one. Bloat resistance is just one of its charms. According to the company's press office, Animée is "lightly sparkling and finely filtered with a delicious, fresh taste [and an] unexpectedly sophisticated appearance." That translates from PR flack-speak as fruity flavors and pastel hues. Instead of 6-packs, Animée is sold in lighter, daintier 4-packs. Animée was launched in the U.K. in late 2011 with a big bucks promotion, and we can hardly wait for its appearance on our shores cause, you know, we hate to bloat too.
Heineken's Jillz: "Fresh and exciting. Just like you." Uh huh.
Heineken's entry, also thoughtfully sold in 4-packs, is Jillz (with a
Z
; the original name of Charli with an
I
was withdrawn when the company realized that is a nickname for cocaine) a sweet beer and apple cider hybrid that would never be confused with either of the two beverages. Type your name into the online Jillz
Datemaker
and a buff and shirtless bartender will personally invite you to 'Come bite my apple.'
Is that really beer? I mistook it for a hip stylish purse.
Finally a beer that matches your slingback sandals. The
Chick Beer
website explains: "The bottle is designed to reflect the beautiful shape of a woman in a little black dress. The six-pack looks like you are carrying your beer in a hip stylish purse. Chick's unique reflective bottle blings you up! It's fun, fabulous, and female!"
…and the lady in the bold Pucci print will have a Carlsberg.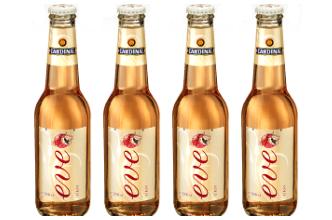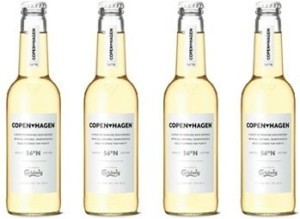 In the beginning, there was Eve.
Introduced in 2006,
Eve's Press Kit
asks that its girly flavors (litchee, passionfruit) be served in girly glasses (flutes) at suitably girly occasions ("where women meet and socialize in company with their best friends.") But what about those situations when you want a real beer in a real bottle and darn it, none of them look good with your outfit? It happens to women all the time, according to 
Carlsberg's International Innovation Director
: "There may be situations where they are standing in a bar and want their drinks to match their style. In this case, they may well reject a beer if the design does not appeal to them." Thank goodness Carlsberg's new Copen♥hagen (the heart is silent) is on the scene to rescue us with its tasteful, go-with-everything bottle.
Is anyone surprised by the missteps?
Beer marketing has a long and shameful testosterone-drench history. The industry has always flogged its products with sexist, dude-centric imagery like sports figures, cowboys, rappers, farm animals, physical labor, and above all frat-boy humor. These clumsy, condescending, pink and fizzy attempts to appeal to women are about what we expected.
Half the market is still waiting for their beer.