.
From this…..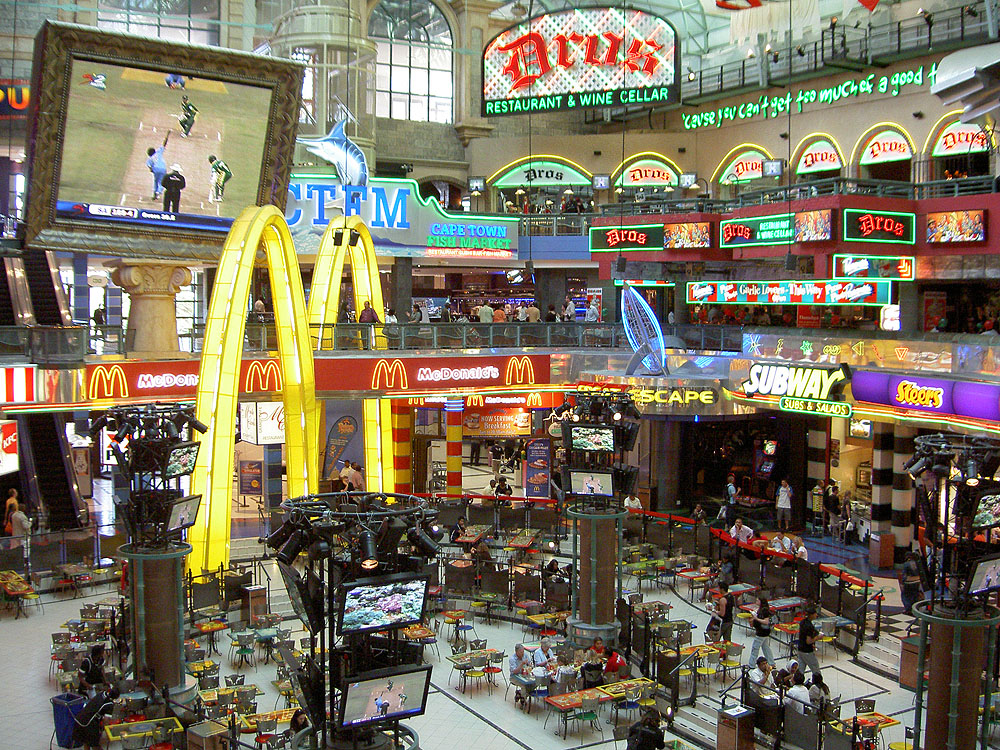 …..to this
Farewell, Orange Julius. Sbarro's Pizza—we hardly knew ye.
Once upon a time, fine dining was easy to distinguish from its casual brethren, and the sticky tables and plastic trays of the food court left no question where mall dining fell along that spectrum. Lunch was the time for some quick-serve fuel—heave the shopping bags onto an empty chair and tuck into some gloppy chow mein or a hot dog-on-a-stick. Lighting was harsh, plastic cutlery was flimsy, and service was limited to a janitor with a spritz bottle and rag.
In recent years, we have seen dining distinctions blurred as upscale, 'gourmet' elements trickle down to every level. Premium fast food outlets like Cosi and Chipotle are bringing high-end touches to the masses, with their proper cutlery, artful interiors, and made-to-order menu items. Now, the humble food court is being redefined.
The Time Warner Center, a New York shopping arcade, pioneered the concept of the luxury food court. Its splashy opening in 2004 brought a mix of self-serve and sit-down options presented by a cabal of star chefs: Thomas Keller from California's wine country, Chicago's Charlie Trotter, New York's Gray Kunz, globetrotter Jean-Georges Vongerichten, and Masa Takayama of Beverly Hills. It was the densest concentration of Mobil stars on the planet.
It's true mall food at the food court beneath the shopping arcade in the Plaza Hotel. Sort of. The burgers are American kobe beef, and the pizza is topped with prosciutto and fig instead of pepperoni. The cream-filled chocolate cupcake with the signature twirl of white icing looks just like Hostess but is baked by the pedigreed daughter of celebrity chef Todd English.
Even the legendary Central Park oasis Tavern on the Green is going the food court route. Some of New York's best food truck vendors will be setting up shop there beginning this fall, bringing haute street food like lamb bacon BLTs and organic, artisanal ice creams.
Swank food courts have also taken hold in California. SoCal's Santa Monica Place reconfigured to devote a full third of its space to dining, up from the typical 5%. There are two new wine bars, Asian and Latin-fusion options, and while you may still choose the greasy pizza and dollar hot dogs, you'll do so in style with upholstered dining chairs, moody lighting, and ocean views.
Expect to see more upscaling of mall food courts in the coming months. Battered by the recession, shopping centers recognize that an appealing food court can be an attraction in its own right. It can be a culinary hook to bring shoppers in the door, and in some cases the food court's sales per square foot even exceed those of retail tenants.
Mall dining can be much more than a shopper's pit stop. And trust me, you won't miss Chick-fil-a one whit.
.