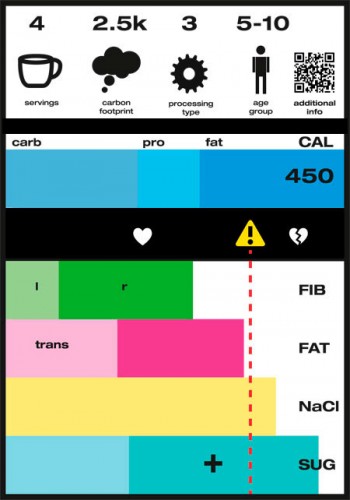 Not that it ever really did. In fact when the FDA first introduced nutrition labeling in 1993, the agency deliberately didn't choose the best option; instead, it opted to play it safe by choosing the design that was characterized as 'the least poorly understood.'
The FDA is taking another crack at it. Later this year it will introduce revised food labeling, and the hope is that it set its sights a little higher.
The School of Journalism at the University of California, Berkeley, is lending an unsolicited hand. It held a public competition called Rethink the Food Label,  judged by a panel of designers, health professionals, and food activists (including faculty member Michael Pollan). Entrants were encouraged to "re-imagine the label to include geography, food quality, food justice, carbon footprint, or lesser-known chemosensory characteristics."
The biggest shortcoming of the current label is the nutritional arithmetic. All those grams and percentages tend to cause our eyes to glaze over. It also gives manufacturers the ability to 'game' the system by adding irrelevant and inert ingredients that improve the labeling profile without making the food any healthier. Instead of improving food and nutrition literacy, the current label is a distraction that doesn't directly answer the real questions:  Is this good for my health? Is this good for the planet?
The best of the contest submissions (some seen here) use a visual shorthand to answer those questions. They finesse a graphical yes or no with design elements like thumbs up or thumbs down, report card-style letter grades, color coded food groups, and red light or green light.
We will soon find out if the FDA has incorporated any of these elements in its final redesign. The contest makes one thing clear —the existing model can be vastly improved with a dose of simplicity and a little creativity.
See who won at Rethink the Food Label.