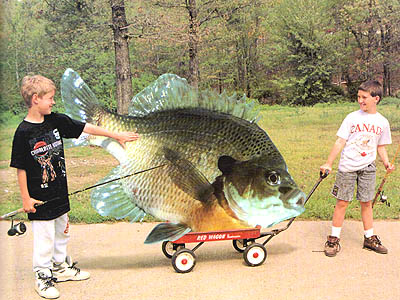 image courtesy of Keith 'Catfish' Sutton
.
Come on, FDA. What's the hurry?
Your special committee is meeting right now to decide if we should eat genetically engineered salmon.
This is a really big decision. It will set a precedent for all future GE animals, and has implications that will ripple through the entire future of the U.S. food supply.
Obviously, you'll want to set the bar high at the outset. This is not the time for a rubber stamp approval.
There are a couple of things bugging me about this approval process.
I feel like I've been ambushed.
You've spent the past decade prepping AquaBounty Technologies for this moment, but you gave the rest of us just two weeks to play catch-up before the public hearing. It's hundreds of pages of technical information covering everything from allergens to ecosystems.
Can I have a minute to catch my breath?
And about that data…
I see that of the four studies submitted, three came directly from AquaBounty—you know, the guys that are $50 million in the hole while they wait for the big payday. And how about that fourth study; you couldn't come up with a peer review a little fresher than an 18 year-old industry journal?
It troubles me that all the studies took place at AquaBounty's facility on Prince Edward Island. If they're going to be raising the fish in Panama, you'd think they would need at least a few test runs down there. And shouldn't they tell you the actual location of the planned facility, although I think someone said something about being near a river. I guess you figure that Panama isn't all that big and you'll be able to find them when you want to check up on stuff like compliance. Oh, I forgot; you won't be doing much of that since you don't have any authority in Panama.
I was able to get through a few sections of the report. The study on the health of the fish was a piece of cake, being so skimpy and all. I would have thought that more than 120 fish, three to six at a time, would have been studied over the last 15 or so years. It sure doesn't seem like a whole lot of fish for a company that already has 20 million eggs on order. I also expected that the studies would have used random samples, but I see that AquaBounty was allowed to weed out the fish they didn't want to use. Wouldn't you guys at the FDA want to know about the abnormalities? And doesn't that skew the results in their favor?
I'm going easy on you here.
I'm not going to talk about the way I get the willies at the thought of conger eel DNA spliced into my dinner (I know, it sounds nicer when you call it the ocean pout), or invoke the nickname Frankenfish (that one really bugs you). And I won't even go after the special committee you assembled for the review process, with its lone fish expert and last minute addition of a former Monsanto employee, although I wish you had looked beyond your FDA buddies and enlisted some of the environmental and fisheries experts at other government agencies, like the U.S. Fish and Wildlife Service or the National Marine Fisheries Service.
You're telling us that the FDA will continue to monitor how the fish perform over time.
I think that now is the time to scrutinize the data and ask the hard questions; not after the approval process.
As guardians of the public health, I respectfully suggest that you get up off of your FDA asses and do your job.
Signed,
Gigabiting